By
Tommyjoking

Date
03-29-2015 03:25
Simple as pie fitting technique we all use doing any mechanical or structural.....Just thinking maybe not so obvious to the young hands.   If you have to fit one heavy piece to another of the same dimensions .....just clamp a solid piece of flatstock to the piece your fitting to for it to rest on and line it up for you.   Very basic but you may be surprised how many fight that stick of whatever trying to line it up to something.   Another way of looking at it is if something must fit up flush to something else use the plate on the "flush fitting side" and just use it to hold it while you work the rest of it./

By
aevald

Date
03-29-2015 17:42
Hello Tommy, thanks for including that bit of information. As you said, there are a number of things that seem rather simple when you have been out there for a while, yet you don't necessarily see them spelled out anywhere. Just have to spend some time with the more experienced ones to pick up on these sorts of things. Thanks for sharing and best regards, Allan


By
aevald

Date
03-30-2015 04:21
Hi Tommy, me again. I have a few photos that might add a bit of "visuality"(is that a word? Oh Well) to your descriptions. Best regards, Allan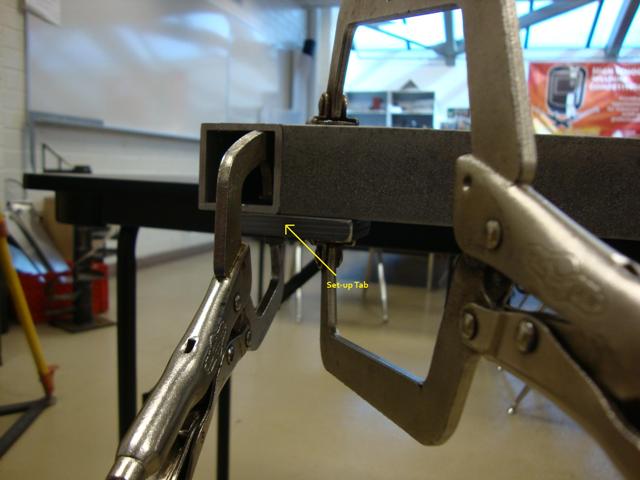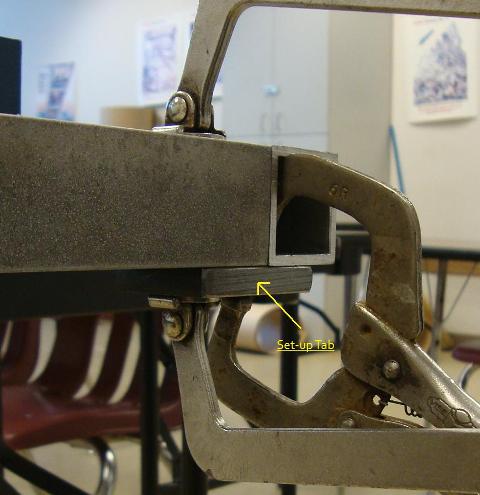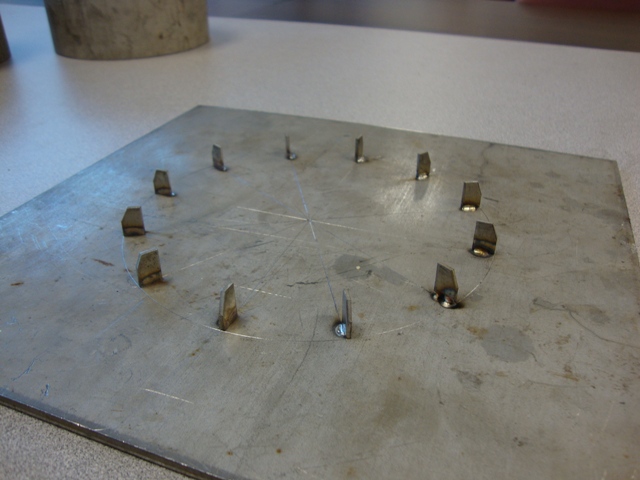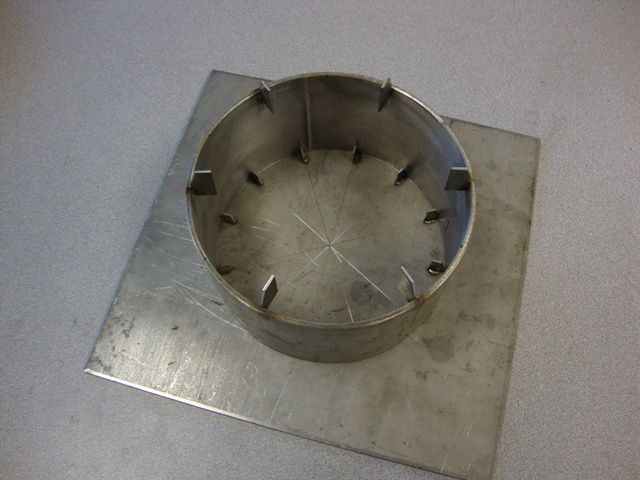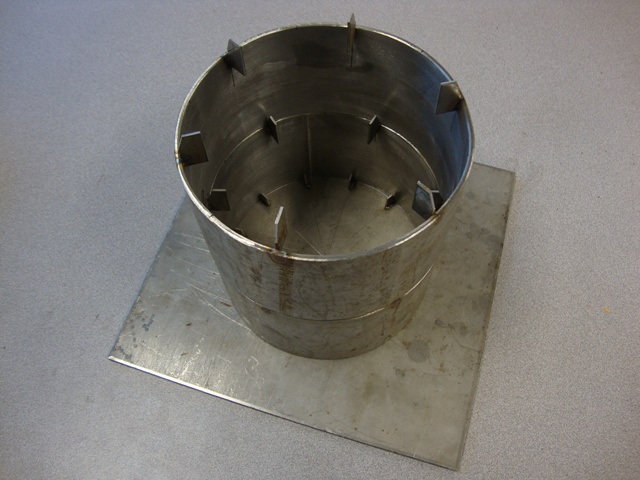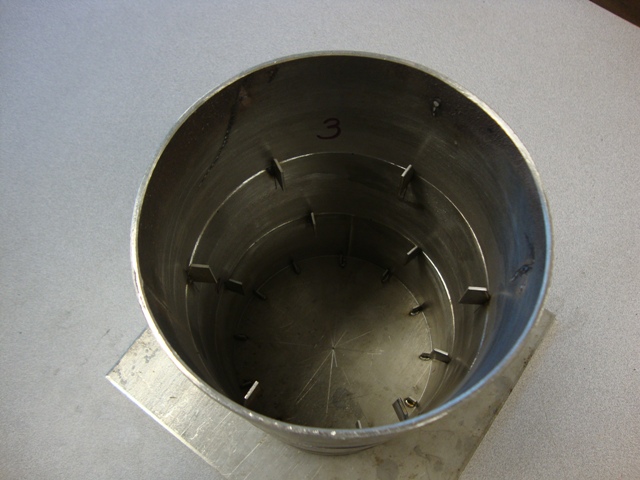 By
PlasmaHead2

Date
03-31-2015 01:48
Hey Allan,
Nice pics... Shiny stainless



By
aevald

Date
03-31-2015 02:16
Thanks Clif, those are some classroom example pieces that I use to attempt to illustrate and give a hands-on example of some of the methods that might assist in construction of any number of "circular" items. Best regards, Allan

By
Tommyjoking

Date
04-01-2015 02:24
EXACTLY ALLAN!!!!


By
welderbrent

Date
03-30-2015 14:42
Good point Tommy, and illustrations Allan, and it also goes along with your dog and wedge illustrations. 

Let me give another practical example:

When in the Boilermakers on petroleum storage tank construction, each 'ring' would be slightly thinner in gauge.  Many would start at ground level between 3/4 - 1" and get thinner.  By the time we got to the top we were between 1/4 -3/8".  All depends upon the height, diameter, and other engineering considerations. 

We started on the plate floor with tabs as in Allan's illustrations and formed the ring to fit.  You then place tabs on the top of the first ring and fit the next ring to those and as you did the final fit you used your dog to move the second plate over a tiny bit to compensate for the thickness change in the plates.  Along with key plates, nuts, and bull pins to line up and fit the vertical seams you went around and fit the ring.

When all fitting and welding was complete, the diameter came out right, the offset in rings was right, there were no 'peaks' in the verticals, etc.  If, everyone knew their job and did it right. 

The tabs doubled as a first fit, final fit aid that was very handy.

He Is In Control, Have a Great Day,  Brent

By
aevald

Date
03-31-2015 02:18
Hi Brent, your mention of key plates and such things brings to mind a student that we had a while back. He was in to brush-up on some of his welding skills and prepare to become a CWI. He had extensive experience in "large tank" construction and was a fountain of information to provide for my education as well as a lot of the other students. Best regards, Allan


By
PlasmaHead2

Date
03-31-2015 01:46
Hey Tommy,
Hope things are going good for ya

I've ended up doing things of this nature so often that I have a bin of small bits of various thickness random material...
Cold rolled bar stock is one of the most collected. And bits of angles...
Aluminum stainless and steel... nice square edges and nice nominal numbers.
If .248" isn't close enough to 1/4" then it doesn't belong on my table, go talk to the machinists next door...



-Clif

By
Tommyjoking

Date
04-01-2015 02:29
Edited
04-01-2015 02:34
Oh heck Clif,,,,,,,,I keep little pieces in my bucket if im a welder on the job just for this and that........as you go along you will see what will help you and what won't.      These days I always keep a cutoff wheel and chucks handy for a four inch......I also keep a couple of thin pipe spacers handy for leveling stuff.   FARGIN structural work there is ALWAYS a gap to fill with weld meat.
you will be surprised out on the road how often a sliver of bar stock or rolled stock will make you day.


By
803056

Date
04-01-2015 00:48
Nice job gents.

Al


By
Tommyjoking

Date
04-01-2015 02:32
Maybe I should post about what you do when the local shop can't roll a tube to a certain radius.  I dunno this is basic fitting skills to me but it may be beneficial on the site.

By
aevald

Date
04-01-2015 05:01
Hello Tommy, definitely, post it up! Best regards, Allan

By
mwmw

Date
05-21-2015 03:38
Ive used a similar technique to place "false" bottoms inside tanks.
Was the pipe you bought or plate you rolled? looked like you did a good job if it was rolled
Powered by mwForum 2.29.2 © 1999-2013 Markus Wichitill