American Welding Society Forum


By
hburg rocket

Date
11-06-2015 18:41
Existing fillet welds with galv finish:  From an as-welded viewpoint, does galvanizing ever so slightly increase or decrease the "apparent" size of the weld?  Is this answer dependent upon whether or not the weld is concave or convex?  Or, using the typical fillet guage, is the difference "negligible."

In other words, for an as-installed weld, if the spec requires 1/4" fillet [with HDG finish], would you expect the weld [with the galv] to be slightly larger, or slightly smaller than 1/4", or not easily detected using the common fillet guage?


By
In Tension

Date
11-06-2015 20:31
Kinda with Lawrence on this one.  A quick look at ASTM A123 shows that HDG grades are measured in thousandths and microns... negligible in terms of weld size.  I don't remember having ever put a fillet gauge on an HDG weldment but if I did I would probably feel comfortable accepting or rejecting the size in the as-HDG condition.  Remember that as the apparent weld size grows, so does the reference surface off of which your fillet gauge is measuring.  So the measurements are relative to one another.
I would also feel comfortable refusing to measure them in the HDG-condition if it were obviously affecting weld size. I see where Brent is coming from because I've seen some pretty botched galvanizing operations.  So, doing this in practice is much different than in theory.  Therefore the answer must be... it depends!

By
aevald

Date
11-06-2015 23:09
Hello In Tension, got to reading and thinking about what you said about adjacent surfaces and taking this to minute detail, etc., you are certainly correct the weld size would "measure less" because of the consideration of all of the adjoining surfaces. Put together a little "sketch" that visually applies, at least from my perspective. Thanks, Allan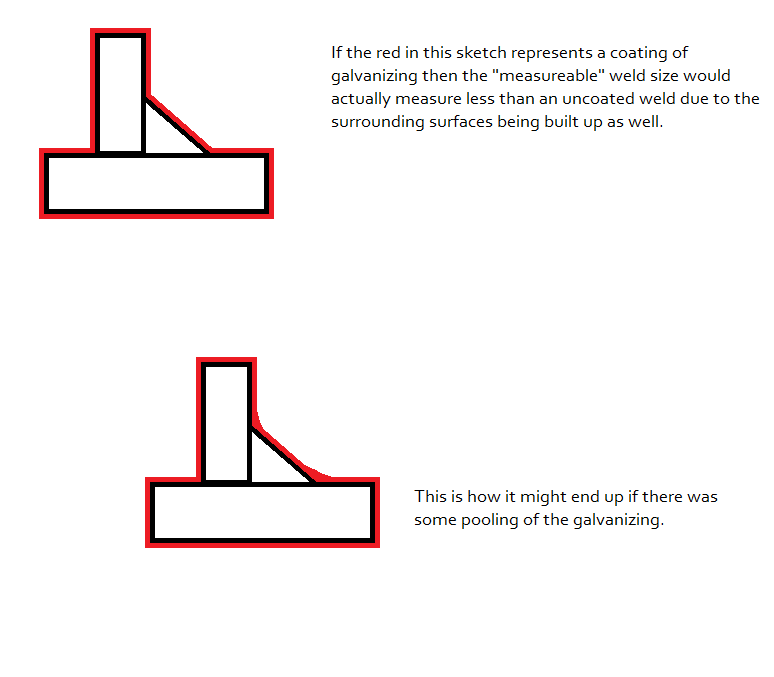 By
CWI555

Date
11-18-2015 15:51
Sizing has been well covered here. However I don't see (will re-read after this post) mention of LOF and other potential flaws. Something like that could easily be covered up.


By
thirdeye

Date
11-27-2015 16:45
I was thinking the same thing, especially surface porosity which is filled and not detected.


By
803056

Date
11-28-2015 18:51
If you can't see it, it ain't there. It is akin to a layer or two of high viscosity paint. Both HDG and HVP should be applied before the pesky inspector shows up.

Al

By
thirdeye

Date
11-28-2015 19:03
Heheeheeee, so true.  

I learned the hard way once that aggressive sandblasting can expose cluster porosity that was immediately below the surface, and not seen during the initial inspection by the welder, a foreman or myself.  When possible I prefer to do another visual following blasting, but I make the following notation in the 'condition' section of the report: "as-welded, VT before sandblasting".  If the shop performs a dry MT using contrast paint before I do my visual I note that too, but many times the light dusting of contrast paint will highlight both undercut and surface pores.
Powered by mwForum 2.29.2 © 1999-2013 Markus Wichitill