American Welding Society Forum


By
jwright650

Date
01-02-2020 13:34
Edited
01-02-2020 21:24

I ran into a pattern that I'm not familiar with and want to run it by you guys.
The deck is a narrow low flute "NA" type deck and they are calling for 3/4" diameter puddles(arc spot) in a 24/8 pattern.
I've seen 24/6 before but the composite decking had a wider lower flute where you could place two puddles in the 2 middle low flutes to achieve the 24/6 pattern. This deck is too narrow, so do I make them place two puddles side by side(one on each of the joist top chord members)?
Edited the size of the attachment to 3" x 6" but it still looks huge on screen, moved the attachment to the last post and now it seems okay...wierd.

By
jwright650

Date
01-02-2020 14:44

I reached out to the deck mfg but haven't heard back yet.


By
welderbrent

Date
01-02-2020 15:43
Good Day John,

I am planning to check the downloads I have from the decking institute.  Some of them have patterns for various specs.  Haven't had a chance yet.  Steel decking institute has about 3 different specs that are available as free downloads if you are interested. 

I'll check it out as soon as I can.


By
jwright650

Date
01-02-2020 15:58

Thanks for the reply Brent. Have you seen a 24/8 weld pattern before?
I heard back from the deck mfg and the detailer had to reach out also because he simply copied the requirements straight from the contract drawings. Together we determined that the low flute is too narrow and the pattern will have to be spread across both top chord angles to get all 8 puddles across the 24" sheet at each structural support. So there will be 2 rows of 4 where the deck crosses each joist.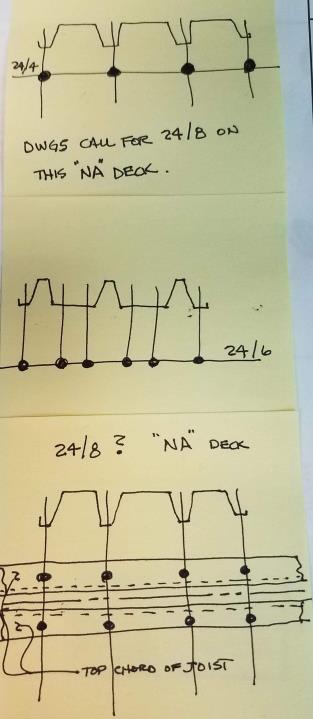 By
welderbrent

Date
01-03-2020 01:58
I have never seen that pattern John.  Looking through the downloads form SDI, they don't show it either.  I concur with the two rows of 4 but don't understand the need.  I think someone doesn't know what they are doing in the engineering department. 

Have a Great Day,  Brent


By
welderbrent

Date
01-03-2020 05:02
Adding these to confuse the issue even more.  See attachments from SDI on patterns for attachment to supporting members.  As previously noted, the only way to get 8 is to double stack on the joist member but my main issue still is 'WHY'? 

Have a Great Day,  Brent


By
jwright650

Date
01-03-2020 12:30
Edited
01-03-2020 12:33

Here are the contract and deck dwgs regarding the area that the 3/4" diameter 24/8 pattern is required.
Edit: I can't figure out what is the deal with these huge picture sizes...they have been reduced down but still show up huge in here.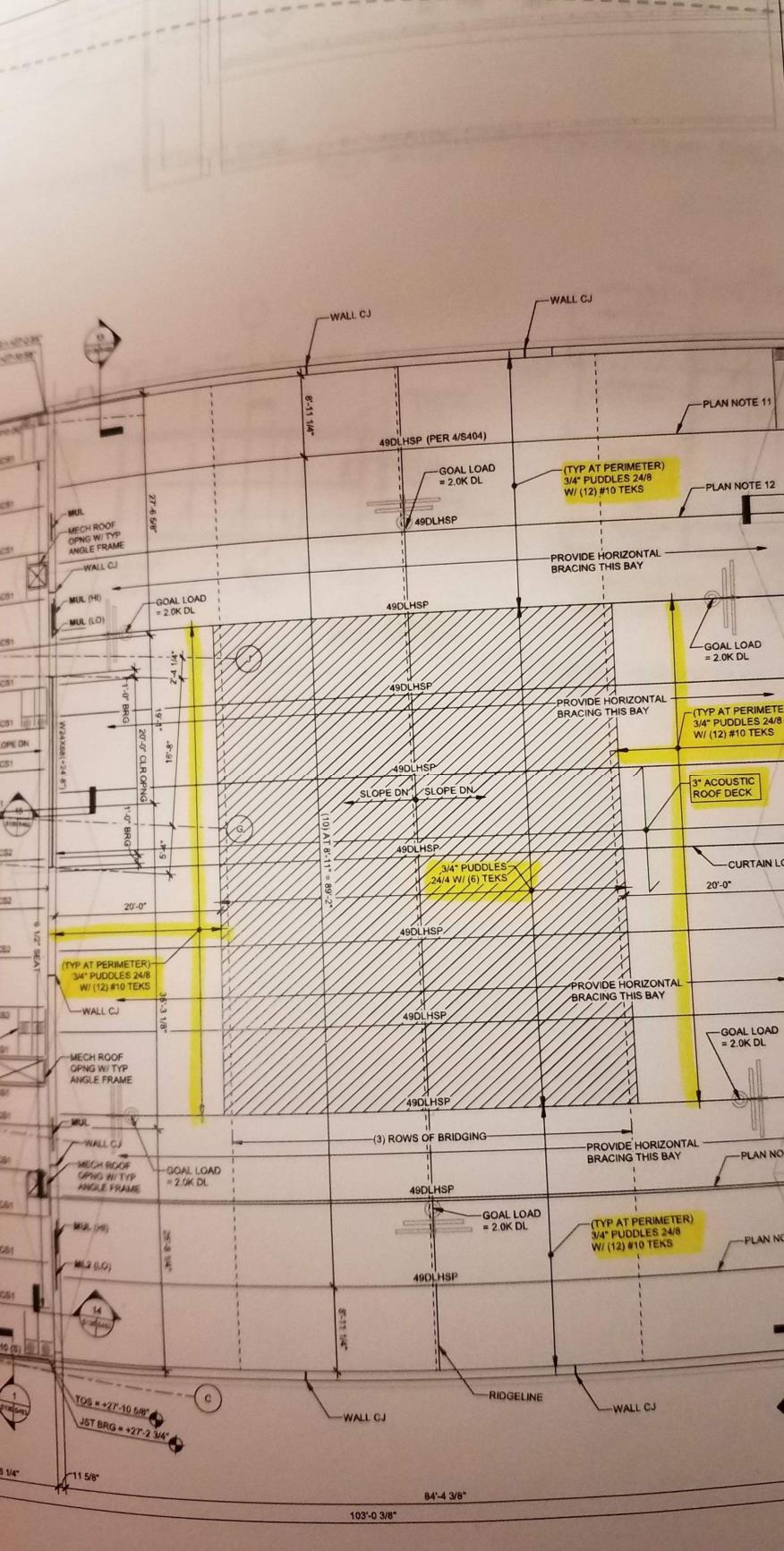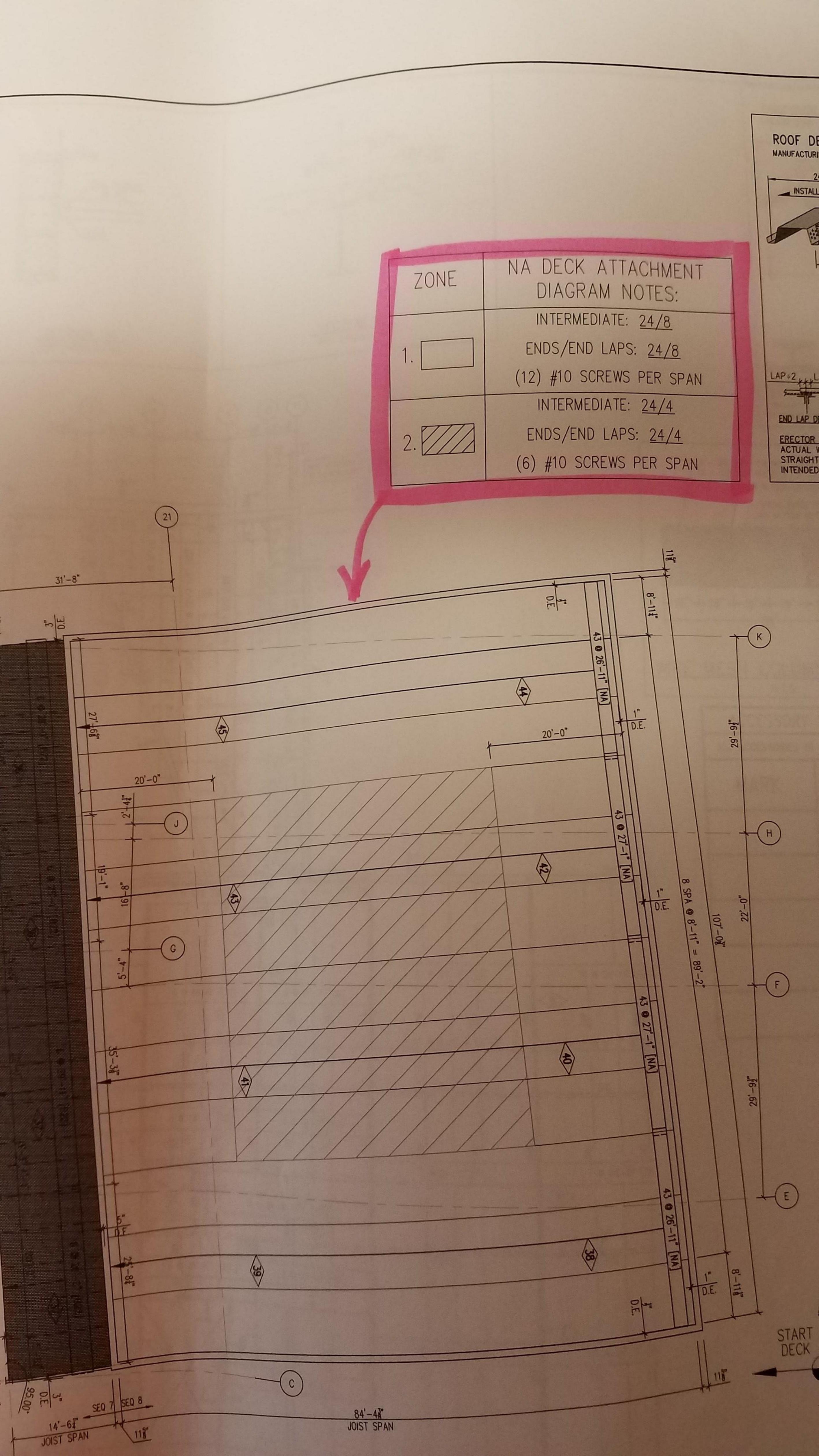 By
jwright650

Date
01-03-2020 22:15

I sent out another email, to the EOR this time, to see if what we came up with will be acceptable to him regarding the 24/8 pattern. Now.... we wait and see.


By
welderbrent

Date
01-03-2020 22:32
.

By
jwright650

Date
01-06-2020 14:30

EOR has responded and is okay with this everywhere but at the laps. As long as the laps cover both angles of the top chord we're good.....but, If the laps do not cover the entire top chord, then they have to try to get all 8 puddles in there somehow.
I hope all of the sheets are long enough to cover both angles in the top chord so the erector can follow the same pattern all over.
Powered by mwForum 2.29.2 © 1999-2013 Markus Wichitill