American Welding Society Forum


By
aevald

Date
07-31-2006 20:08
Hello all, this is kind of an old trick but it's still very effective. When you have an internal bearing race that is being stubborn and not wanting to come out, or you don't have the correct puller, you can run a weld bead on the internal bearing surface of the race and as it cools it will shrink and fall out in most cases (this is only for the removal of bearings that you aren't trying to save for future use). the welding process can be any of them except for possibly oxy-acet due to the peripheral heating of the area, GTAW, SMAW, GMAW, or FCAW will all work. You do need to consider how weld spatter can impact the area surrounding the bearing pocket. For sensitive areas GTAW will work the best without causing damage from spatter contamination. You also have to take great care with where you place the ground as improper grounding can cause damage to other bearings that may be part of the system or to other machined surfaces. For shaft mounted bearings that have failed and require removal, whether they be ball or roller bearing types there is another method which can be employed for their removal. First remove the cage assembly and balls or rollers leaving just the hardened race, when removing the cage assembly you can use an oxy-acetylene torch or any other number of methods. Take care to avoid contamination to any other parts of the assembly (common sense dictates if this method can be employed for the removal process). When the race is the only thing left on the shaft, use your oxy-acetylene or oxy-fuel torch and a neutral flame to heat only the race, as the race heats up bring the angle of the torch to a point to where it is almost flat to the surface of the bearing and slowly open up the oxygen adjusting valve on the torch to cause the flame to become oxidizing (do not depress the cutting lever), as you do this you will notice the flame will start to push the material on the surface of the bearing race, at this point stop opening the valve and use the force of this flame setting to reduce the thickness of the bearing race by tipping the angle of the torch tip into the bearing surface and moving side to side slightly as you push ahead. You do not need to completely penetrate through the bearing race and really prefer not to. Once you have reduced the thickness of the race to around 1/16" across the width of the race, stop the process. Allow the race to cool some and then give it a sharp rap with a hammer being careful not to strike the shaft or other surfaces. In most cases this will cause the race to fracture and will allow it to be slipped off of the shaft. BE SURE TO USE PROPER EYE PROTECTION AT ALL TIMES WHEN ATTEMPTING THIS PROCESS! I would also suggest practicing this method on some scrap bearing applications before actually using it on something that really matters. Good luck and regards, aevald

By
jwright650

Date
07-31-2006 20:22

Those tricks work, I guess I've used just about every suggestion you made in this thread at some point when working on old cars.


By
803056

Date
08-01-2006 22:12
Keep up the good worlk Aevald. Great suggestions.

Best regards - Al


By
aevald

Date
08-02-2006 14:18
Hello Al, I'm hoping some others will start chiming in here as I'm certainly waiting to learn some things that I haven't run into yet, I know there are plenty out there. Thanks and best regards, Allan


By
weldwade

Date
01-23-2011 16:53
Sorry to bring back an old post but I had to do this yesterday so I thought I would share some pictures. These are aluminum hubs from Eaton rears on a Western Star. I used 5P+, two passes on the large inner race and one pass on the smaller outer race. In the past I have used many other rods but I think good old LH7018 works about the best. These needed just a couple light taps with a long punch and they fell out. This is the only way to do this job in my opinion. Aluminum hubs really hold the race in there, you can get them out eventually without welding but this is so easy. I always weld at the thick part of the race because it has more sectional mass and is more ridgid.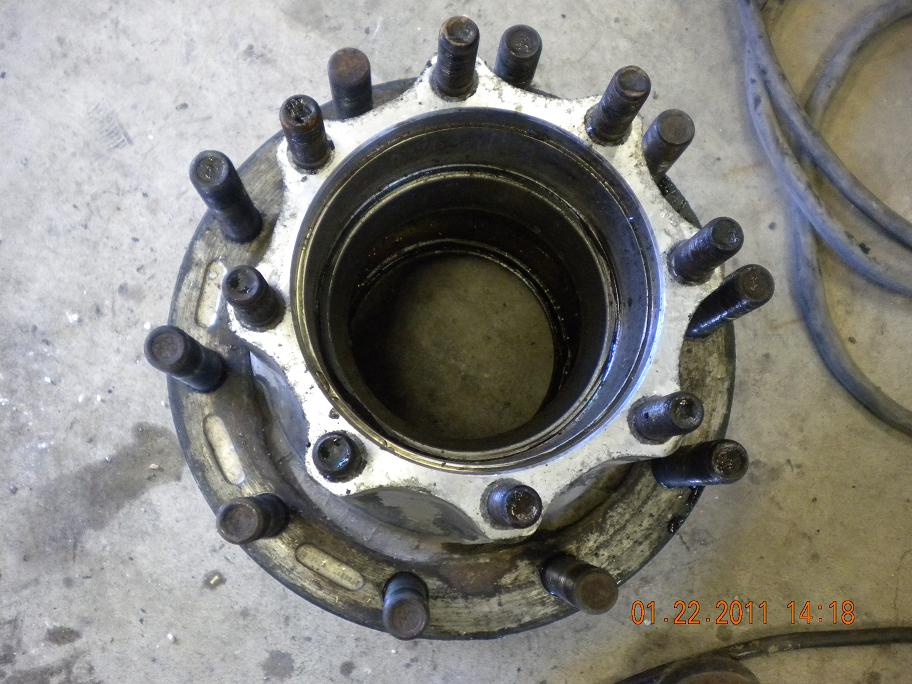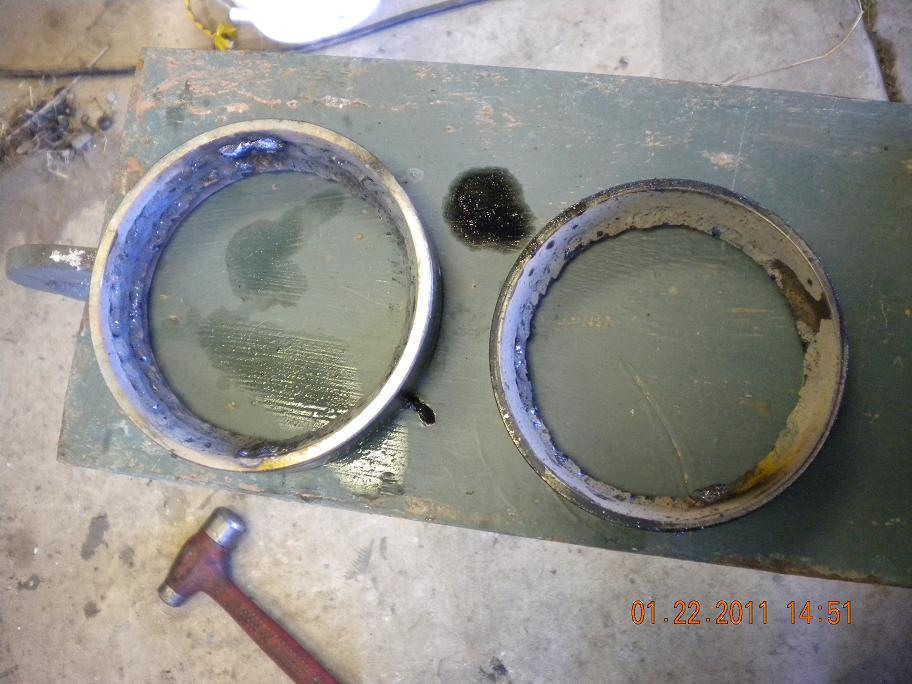 By
aevald

Date
01-24-2011 02:36
Hello weldwade, bringing back some of these old topics never hurts. There are likely a number of folks out there who will benefit from your pictures and narrative. Thanks for sharing. Best regards, Allan

By
weldwade

Date
01-24-2011 03:47
Thank you Allen for all your info and ideas here. I always enjoy reading your posts and learning from you. Thanks for taking the time to teach us here also!


By
welderbrent

Date
01-24-2011 03:57
Boy, Wade did drag up an old one this time.  LOL!!

Great tips Allan, and Wade. 

I have used those myself on logging equipment and other applications several times.  They do indeed work well.  Rather the bearing is internal or external mounted you just have to consider which way you need metal to move. 

After the bearing is down to just the inner race, and often leaving the bearing totally in tact, I have been able to remove it from the shaft by just heating the inner race with a torch.  You have to start with all parts cold, a good sized tip or even a rosebud, heat the inner race from one or both sides (ends) quickly so the heat doesn't get a chance to transfer to the shaft, and it will fall or can be knocked off easily.  If you don't care about the bearing in any way, just destroy it down to the inner race first, then it is easy to either heat for expansion or use Allan's method of making it crack.  You can also cut through a bearing without damaging the shaft without much difficulty.  Just as cutting bolts out of holes or nuts off of bolts without damaging the member you wish to save.  Just takes practice.

Have a Great Day,  Brent


By
aevald

Date
01-24-2011 05:11
Hello Brent, I didn't really notice how "old" that one was until you mentioned it and I looked, just a day or two ago. Your descriptions also add a bit more dimension to these techniques. Thanks! I hope that you and the family are getting through the tough times and that things are looking up in your area. If not, you may wish considering looking to get back up to the Pacific Northwest. Portland has been opening up a fair amount and even my area has a couple of shops that are really quite busy. I imagine some of your old contacts around here could give the lowdown if you consider this as an option. Best regards, Allan


By
welderbrent

Date
01-24-2011 14:15
Thanks Allan,  I may need to start calling in some favours and just friendships here soon.  This part of our state is really very slow.  And too many guys trying to get the work, both fabrication and inspections.  If I'm going to go broke I'm going to do it at least being fair to myself and my trade.  Not going to lower myself beyond any sense of reasonable sanity.  Overhead is overhead and must be covered.  Otherwise, I'll just shut the doors.  I think it has already slipped too far to try to sell it.

Brought it on myself by trying to be busy as an inspector and keep the shop too, especially after Darrell left last spring.  Without him running the shop I haven't been able to do everything to run both.  Having a son who was a hard worker and truly interested in helping run the family business was quite a blessing.  We had many good years.

Anyway, thanks for all the tricks posts.  Wade must have been desperate to dig back to 06.  At least someone around here knows how to use the 'Search' function. 

Have a Great Day,  Brent


By
Tommyjoking

Date
01-29-2011 00:33
WTG  Allan.   That is a trick I have used before, especially on steering races on a motorcycle neck.  I never think about that one till I have to do it.  It always has worked great for me.  SS rod works especially quick.

HEY BRENT    do you specialize in a few types of fabrication/structural? Or is it a do anything job shop?    I just wanted to say if you are specializing it might be time to branch out and do repairs of all types, ornamental ironwork...things like that...more public work in other words.  Times are really tough everywhere, the only guys I know in the green are taking on stuff outside their box, or they are huge contractors.

By
Cumminsguy71

Date
01-29-2011 17:39
We did this type of stuff at the Cat house all the time on all types of things, 988/990 differentials(huge), off highway trucks, wheel loaders, dozers, transmissions, but we never welded them. Always used a torch, but the components were so thick you couldn't hurt them anyhow. The only thing it didn't work on was a swing motor off a 375 excavator. We heated the raises and put in large press to get the pinion out, think it was a 100 ton press with cage. It ended up exploding!! The old guy working the press about pooped on himself!!! About a $2000 housing and $4000 pinion later we had it rebuilt!

We also used this to get the roller bearings off on shafts, axle shafts. Cut the cage for the rollers and the heat the race. Sometimes it would drop off, other times one of the mechanics had a blacksmiths hammer(?) had a big V wedge on one side. We'd heat the race red hot, another guy would set the v of the hammer on the red and whack it with another hammer. Move around the race a few places and the race would pop off normally. Most of the time though we had some large prybars and one guy on each side under the race, heat it with the torch and it would slide up with pressure.

We tried the weld method on a hydraulic hammer once at a different shop to get the bushings out of the case, that didn't work. Ended up sending it out to have the bushings pressed out and new installed. This hammer was huge though, we had to stand on an 8 foot ladder(without the bit in it) to get the hydraulic wrench on the 4-5 inch nuts in order to torque them to some amazing number.


By
welderbrent

Date
01-29-2011 23:36
Thanks for the suggestions Tommy,  BUT...

We do custom gaurdrails/handrails on new homes and remodels, stairs, landings, fire escapes, structural shop pre-fab and field erection, truck/ladder/pipe/lumber/etc racks for pickups (used to do 200-300 per year, down to about 6 per year now),  equipment repair & maint (light and heavy), proto type work, Alum, SS, production runs, steel sales, inspections-TPI & Special, and more.

We have GMAW (short and spray), FCAW (gas & self shielded), GTAW, & SMAW.  I have an ironworker, bandsaw, drill press, torches, plasma, airarc, chopsaws, magdrill, and much more.

Specialized??  Don't think so.  Is there still room to diversify?  Probably.  But, right now I think I am too diversified for the amount of available work.  I spend enough time inspecting that I don't have time to keep things going properly at the shop.  That's why I am working at selling the shop.  I'd rather be strictly inspecting.  I can concentrate on one area better. 

Have a Great Day,  Brent

By
Sberry

Date
06-26-2011 02:08
I have done this a couple times myself. I like wire as good or better than lo-hy.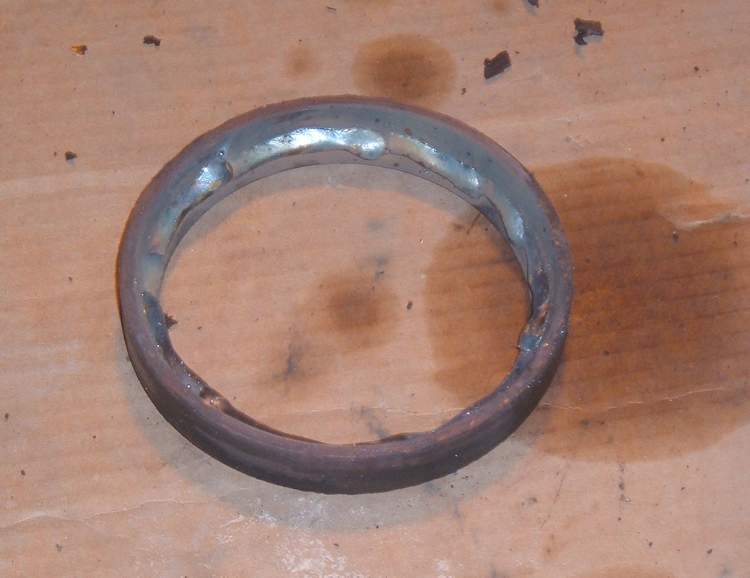 Powered by mwForum 2.29.2 © 1999-2013 Markus Wichitill