American Welding Society Forum

By
Matt F

Date
03-26-2019 16:58
Edited
03-26-2019 17:05
FCAW-G .045 wire 100% CO2.
We had a couple of new welders fail their tests (groove) because they had pinholes in the root.
I was told to administer a tack welding test (2" long fillet weld break test) so that they can at least do that.  This seems like it might be more difficult to pass than the groove test and I'm having a little trouble analyzing the results.

My main question is if I should be scrutinizing the very beginning of the weld.  I've been told that I should disregard the beginning because it is always colder.  I don't think I agree with that - after all this is a tack welding test - that very beginning will usually be the entire tack weld.

There are slag lines and inclusions beyond the root that I am disregarding, but anything that is at the root or obvious fusion problem to the base metal in the weld zone should be a failure.

Here are a couple of pictures of one that has slag and poor fusion at the root but at the beginning of the weld.  Is this a failure?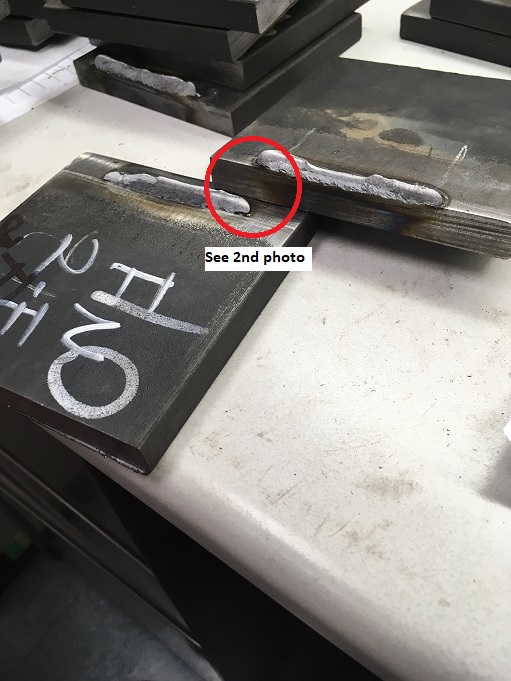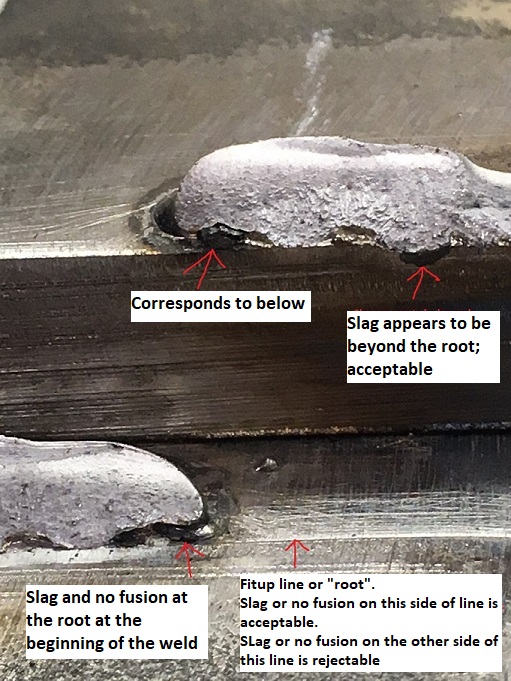 By
Matt F

Date
04-05-2019 14:53
I ended up rejecting the ones that had slag at the very beginning, unless it was just a tiny bit in the corner radius.
It seems that this "tack" test is much harder to pass than a V-groove welding test.

By
803056

Date
04-05-2019 21:36
I have never administered a "Tack Welders" test in over thirty five years of working as a CWI. I qualify the welders using the fillet break test, thereby discarding the first and last 1-inch of weld. One cut end is subjected to a macroetch.

Unlike other CWIs, I've found the failure rate for the fillet break test is much higher than the groove weld test. If they can't pass the fillet break test, there a better chance they will pass the groove weld test. If they can't pass the groove weld test, it is unlikely they will pass the fillet break test.

Just my observations.

Al
Powered by mwForum 2.29.2 © 1999-2013 Markus Wichitill