American Welding Society Forum


By
Cumminsguy71

Date
09-01-2009 16:11
I'm doing a project and the person wanted it done in an octagon. I've laid it out on my cad software and know my outside length. Doing the math and wanting to double check myself. I'm thinking that I need to cut 22.5 degree angles on all the pieces correct?? Looking at it though I guess I could cut off four pieces at 90* and four with 45* angles on both ends and get the same result. Geometry was not my strong point but doing this stuff now it's an interesting challenge. Think I got it figured out but would like to confirm before I go cutting up a bunch of steel. Thanks!

Shawn


By
jwright650

Date
09-01-2009 16:24

360 divided by 8 sides....gives you the number of degrees for each included angle. (45°)


By
JMCInc

Date
09-01-2009 17:50
If you are mitering the joints at each corner, like the base of a gazebo, then the joint will be 22.5°.

By
Tyler1970

Date
09-02-2009 03:47
thats not a 45 degree angle there on the joints he will have to cut.


By
Lawrence

Date
09-01-2009 18:14
My favorite type of Octagon...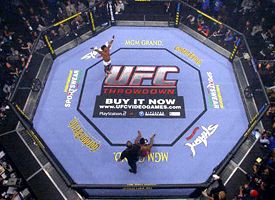 By
Cumminsguy71

Date
09-02-2009 11:54
Thanks for the info on that. I've been explaining it to my wife, she's pretty slick with the math and she does not know where us "welders" are coming up with 22.5 degrees. There must be a formula or something right? What if I want to do a hectagon next time?! LoL!! Guess I should have paid attention in school during the whole geometry part!


By
ssbn727

Date
09-02-2009 12:22

ROTFLMFAO!!! :) :) :)

In order to end up with the correct angles so that the tube joints fit properly, one must cut 22.5 degrees of scrap tubing off from the presumed 90 degree end of each tube... Leaving one with each end of the tube having a 67.5 degree angle which would then give one a 135 degree included angle once both members of the joint are fitted together... Therefore facilitating the proper joint angle to mate the joints accordingly to meet the main objective of achieving a true octagonal base shape - PLAIN and SIMPLE!!! ;) Btw, this was already mentioned with a different selection or words the more than one explanation but, I thought it was appropriate to simplify the explanation somewhat! ;) ;) ;)

The only question I have is how one could come up with a 22.5 degree angle represented & labeled in the "o.jpg" when it is clearly much larger in size visually without even measuring it??? :)

Respectfully,
Henry
Powered by mwForum 2.29.2 © 1999-2013 Markus Wichitill