American Welding Society Forum


By
Vinny

Date
09-02-2018 03:02
Hi everyone. For me welding is part of my hobby of building cars and off road vehicles. I've been using mig and tig welding but I'm beginning to try my hand at custom bodies which is torch work. I have quality high pressure regulators but I don't have anything that is low pressure, <5 lbs. I'm wondering if I can alter high pressure oxygen and acetylene regulators that I already have to work at low pressures? Is it just the gauge or is there more to it? Because there are low pressure regulators from $20 to more than $300 can I maintain the quality I already have but still get what I need? As a disabled vet I live on a set, limited income and every dollar counts.

I've searched the internet for the answers but haven't found any direct answers. A lot is ambiguous, at least to me, and I assume that's because I'm self taught. From friends I've gotten both answers I like and answers I don't. I don't want to burn the garage down or worse because I like someone's answer.

If anyone has answers they can offer, thank you.

Vinny


By
803056

Date
09-02-2018 16:02
I'm confused. You ask about low pressure gauges. Are you asking about the input or the output?

You mention "torch work". Are you talking about oxy-acetylene welding? In the case of OAW, the gases are supplied in gas cylinders that are well about the pressure of 20 to 30 psi when they are "full". The regulators reduce the high pressure to the "working" pressure needed for either welding or cutting. The acetylene working pressure is typically around 7 psi, like wise for the oxygen if welding and as high as 45 to 65 psi if cutting. In either case, when the pressure in the cylinder drops below a threshold, the gauge no longer provides the working pressure need on a constant basis. In short, the cylinder is "empty" for all practical purposes. The cylinder should not be depleted completely. Some pressure needs to be retained so air (with the accompanying moisture) doesn't enter the tank, in short, close the cylinder valve and return the cylinder to the supplier with some positive pressure. 

Al


By
Vinny

Date
09-03-2018 03:25
Hi Al,

Thank you for your time in answering. Yes, I am asking about OA welding. Except for occasional cutting everything I've done until now has been MIG or TIG welding. Neither is appropriate for custom body panels. I can't explain the nuance of why this is beyond that's just the way it is. I only say that because I'm repeating what the Masters doing this work say. I don't even rate as an apprentice but I trust what they say and I enjoy the work.

Honestly input or output never crossed my mind but I assume output. I bought a Detroit Torch DHC2000 which operates at 4 psi for both the oxygen and acetylene. I have a Victor regulator set for a small cutting torch I use primarily on frames. The oxygen range is from zero to 200 psi with numbered markings at 40 psi increments. According to Detroit Torch the 4 psi is critical and I can't verify what the psi actually is. I feel confident I could trust the regulator enough to say it is set to less than 8-10 psi but my attempts to nail the 4 psi haven't gone well. I'm basing this on my attempts to get what seems to be a consistent looking flame from the area of 4 psi per the gage. Above about 10 psi the flame seems to become reliably consistent and repeatable but not at 4.

I'm hoping this is all an issue with the gage and not the regulator. Can I just change the gage to one that operates at something like 0 to 15 psi. Victor literature states the regulator is accurate from 0 to 200 psi but than again I wouldn't expect Victor or anyone else to state something like, "Not accurate below 10 psi." I understand how you could be confused with my question and you have helped me to realize already that I don't know if I'm trying to solve a problem with the gage or regulator. I have the same issues with the acetylene regulator\gage.

I hope I've answered your questions.

Vinny

By
803056

Date
09-03-2018 14:06
Most instruments are accurate to some percentage of their full range. They are most precise around midrange and least precise toward the low end and high end of the range.

Consider changing the output pressure gauge for one that is say 0 to 25 psi rather than 0 to 200 psi. The other thing to consider is the regulator may simply incapable of delivering low pressure on a consistent basis. The regulator may be intended for cutting where the pressure is on the order of 50 psi and higher flow rates than the low pressure, low flow rate required by your torch.  You may need to replace it with a regulator that is intended for low flow rates and low delivery pressure.  

I know that using my regulators, intended for cutting heavy steel, would not be appropriate for a oxy-acetylene torch used by a jeweler.

Al


By
Northweldor

Date
09-03-2018 20:50
Edited
09-03-2018 21:57
Vinny:

From reading the above (and between the lines), it sounds as though you are trying to use the latest version of the old Henrob/Dillon torch, and you are discovering, as so many others have in its nearly half-century history, that it is not really the torch, but a skilled demonstrator, that makes the difference.  I hope you didn't pay full price to learn this, but the Henrob/Dillon will do very little that you can't do with an ordinary small or medium Victor outfit, at much lower cost.

List the Victor equipment you have, with model nos. for both torch  and regulators, and I can tell you how to set regulators at the exactly the right welding pressure for every tip-size, without even looking at the regulators, if the equipment is in good condition.

The modification suggested by Al can be done if you are determined to use the Henrob, but I would have it done by a pro (Bill's Welder Repair). Even though  it is not rocket science, they have better gauges, and test equipment you don't have.

The Victor G-150 guage below reads to 1 LB. The oxygen regulator can just be balanced to it and does not need a gauge change.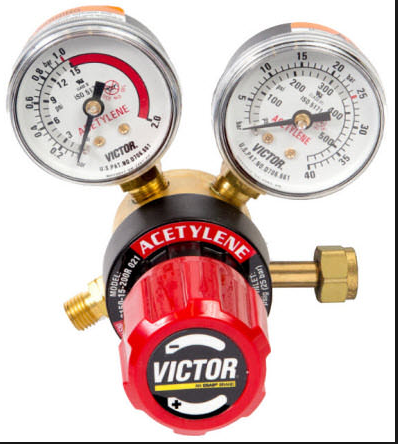 By
Vinny

Date
09-04-2018 01:36
Northweldor,

You are right. I have heard the torch also referred to as a Henrob. I have mobility issues that gets worse with the years and the pistol grip design of the  torch was attractive. Fortunately I paid about 60% of the retail price.

If you don't mind I would appreciate it if you could be more detailed about your "skill of the user," comment. Am I spinning my wheels giving this torch any time?

Thank you for further educating me about regulators. What I have is a hand me down from probably the 60's and I had already resigned myself to updating the regulators. I'm grateful for the direction you have given.

Al, thank you also.
Powered by mwForum 2.29.2 © 1999-2013 Markus Wichitill